If you're a fan of Fernet Branca, you're probably either playing cocktails in expert mode or a good professional bartender. What does it taste like? Well, have you ever had Sen-Sen? No? You'll just have to imagine a mouthful of licorice and violets, then.  It ain't for everyone.
An equally cocktail-crazed friend was over this weekend, and she's a Fernet fiend.  I merged an (undrinkable) Cynar recipe I'd found somewhere with half an idea from Monica at Needle and Thread to make this one.  It got consumed very quickly.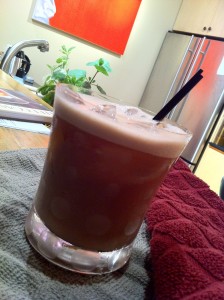 1.5 oz Fernet Branca
.5 oz absinthe (ya really)
.5 oz ginger syrup
Five fresh red cherries
Whole egg
3 oz root beer
Sounds nasty, doesn't it? You'll have to trust me. It's rul good.
Muddle the (pitted, fresh) cherries with the Fernet, absinthe, and ginger syrup. Two notes:
You can probably use brandied cherries if you have to. Cherries are only around for a few months of the year. Fernet is forever. You should probably use double the number if you have to go this route.
You don't have to go through the pains of making ginger syrup.  The Ginger People make some really nice ginger juice.  Cut this half and half with simple syrup, and voila.  They make ginger syrup, too, but I wouldn't use this.  It's not strong enough.  Fit only for pancakes.
Once you've muddled all this, fine strain it (using a fine mesh strainer) into a mixing glass.  Pour it back into the shaker and add the whole egg.  Take the spring off your cocktail strainer (it's ok, really – it's easy to put back on) and drop it in the shaker.  Dry shake the whole thing like it's your worst ex-boss.  Then put some ice in it and shake it some more.  Like your second worst ex-boss.
Put the spring back on your cocktail strainer and strain the whole damned thing into a rocks glass with ice.  Gently pour in the root beer.  Garnish with a couple brandied cherries if you feel like what you've already done isn't weird enough.
Like politics, this one is best shared only with friends who swing the same way you do.