A properly made Martinez is a thing of beauty.  I go for the original 1862 Jerry Thomas recipe, updated with some novel ingredients.  And it's a simple drink to make, too: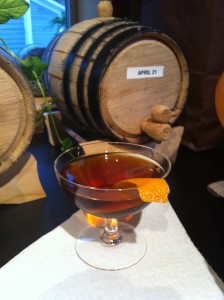 2 oz Ebb and Flow gin
1 oz Antica Carpano sweet vermouth
Dash of Luxardo Maraschino liqueur
Two dashes Fee's orange bitters
Orange peel garnish.  I've been known to flame mine.
I find the sweetness of the Fee's works better than Regan's #6 with the floral qualities of Ebb and Flow.  If you don't have Ebb and Flow onhand, Ransom Old Tom works just fine.  I've also made them with Corsair. 
It's my current go-to cocktail at home – and a fine one to kick off with.