Hello, holiday spirit.  Hello, finding innovative ways to get fat.  Let's just get right down to it and start with the most efficient blubber generator known to humankind.
Egg Nog with Rum Caviar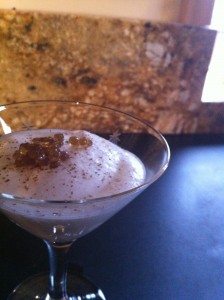 What wacky new recipe did I invent for this?  Um.  I'm not even going to pretend I can do better than this one from Alton Brown.  It's quick to make, too.  If you're going to drink any of it, have someone else make it.  You don't want to know what goes into it.
Now about this rum caviar.  A friend pointed me at this site, which introduced me to the concept.  And bless the person who thought of this.  It's like boozy, succulent bubble tea.  Unfortunately, following the instructions on the site explicitly will render you some sugary, alcoholic goo floating in the bottom of a tumbler-full of vegetable oil.  So if you're going to try this, here are a few suggested modifications:
Add a lot more agar agar than they call for.  Like ten times more.  Seriously.  I'm still working on exactly how much – overshot it a little this time – but too much is better than not enough in this case.
Put the tall glass of vegetable oil in an ice bath while you eyedropper the rum into it.  Otherwise, the oil is going to heat up too quickly, and, well… goo.
Get someone else to do this for you.  Bribe them.  Whatever it takes.  This is a serious pain in the ass.  But hey.  Thanksgiving.
The little glass of eggnog with rum caviar pictured here was almost worth all the effort.  But then again, I got someone else to do most of the caviar work.  Thanks, honey!  And happy Thanksgiving, all.