The holidays are for being fat, dumb, and happy.  And I don't like breaking tradition.  But I finally stopped eating and drinking long enough to write down one of the more successful recent efforts at mixology.  Here's a new one that's going on the winter menu.
Adios Maria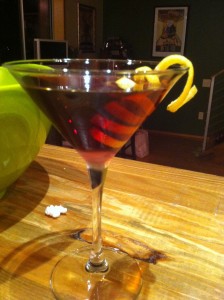 1 oz Bulleit Rye
1 oz Laird's Applejack
1 oz Amaro Maria al Monte
.5 oz Cointreau
Big dash of Bittermen's Burlesque bitters
Stir it all in a mixing glass with ice.  Strain into a fancy glass.  Brutalize a lemon for a really, really long twist, just because it's the holidays and you have patience for this shit.  In January, it'll be screw you, Mr Garnish, so go for it now.
Adios, Maria al Monte.  For now.  With the passage of 1183 here in Washington State last month, liquor sales are officially privatized as of June 1st, 2012.  So the state liquor stores, which had just started to understand the needs of their well-heeled cocktail nerd customers, will be shutting down.  Off-the-beaten-path stuff, like amari, has already disappeared from the shelves here.  We're fucked for six months, at least.
Now I'm all for privatizing liquor sales.  Hey, I spent most of my life in California, and this whole weirdness about restrictions on selling booze in most states is foreign to me.  But this crappy intiative limits sales to stores of 10,000 square feet or more.  Unsurprisingly, Costco funded it to the tune of something like $20 million.  None of Washington's state liquor stores have that kind of square footage, so they can't even use the space anymore.  How much did the state spend on that new premier liquor store in West Seattle a few months ago?  It's toast.
I'm trying to remain open about the whole thing.  It would be great if BevMo showed up and large wine sellers branched out into hooch.  But there's pretty much no getting around the fact that 2012 is going to be a fucked up year for booze snobs in Washington.  And I want small, independent, specialty liquor stores to pop up.  Unfortunately, I am the 1% here.  I am sure the majority of drinkers in the state will have an uninterrupted supply of Jagerbombs.