Here's my variation on one of the oldest tiki drinks on the books, and my current favorite.  By most accounts, it dates back to the 1950s.  It's largely forgotten.  Don't even think of ordering it unless you know you're dealing with a hero bartender.  It's a pain in the ass to make (like most tiki drinks).  If you come over and I offer to make one for you, consider yourself on my good side.
The Jet Pilot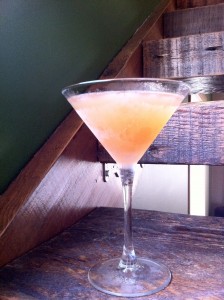 1.75 oz amber rum (I like Angostura 1919)
.75 overproof rum (think Smith and Cross or Lemon Hart 151)
.5 oz lime juice
.5 oz grapefruit juice
.5 oz cinnamon syrup (see earlier post for recipe)
.5 oz falernum (I like John D. Taylor's Velvet Falernum)
Dash Angostura bitters
Dash absinthe
Go easy on that absinthe.
What you do next is a matter of taste.  Tradition dictates that you shake it gently and pour it over crushed ice, more often than not in a rocks glass.  However, I prefer it shaken gently and up in a cocktail glass.  Jet Pilots taste so damned good, I don't want crushed ice diluting the flavor over time.  No garnish.  There's enough going on in there already.
If you're subbing out the primary rum, you'll want something that's got a bit of a molasses edge to it, but not too sweet.  Zaya and El Dorado are too sugary.  I've used Ron Matusalem, Rhum Barbancourt, and even Appleton Estate 12.  I swear I'm going to try
Ron de Jeremy
at some point.  I don't know how it will taste, but I'm betting the drink will be bigger and the bottle will last longer.