It's sunny in Seattle!  Mostly.  All that's missing now is white sand, azure seas, and fruity rum drinks.  Well, crap.  One for three.  Better than the Mariners, at least.
This one comes to us from the most excellent Dinner Party Download podcast.  Every week, they help you look witty at your weekend dinner party by talking about off-beat news items, interesting people, stuff that's happened this week in history, and most importantly, the cocktail of the week.  This one's from Meaghan Dorman at Raines Law Room in NYC.
Cherry Caipirissima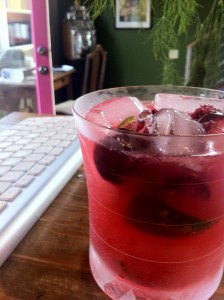 2 oz white rum (Cruzan works great)
Half a lime, cut in quarters
Three pitted cherries
.75 oz simple syrup
Muddle the cherries, limes, and simple syrup.  Add the rum.  Shake, then pour the whole darned thing into a rocks glass.  Close your eyes and dream of white sand beaches.  Chase the knowledge that there are no cherry trees on Caribbean islands out of your head.
I've used both Bing and Rainier cherries on this one.  Both are acceptable, although I like the color and stronger flavor of the Bings better.
The drink is perfect for alcohol-squeamish friends who favor vodka / rum and coke.  It's simple, a bit sweet, fruity, and not too spirit-forward.  And cheap to make, too.  Do your civic duty, people.  Friends don't let friends drink Cosmos.