You know what really gets in the way of creating new drinks?  Prilosec.  Thankfully, I'm now back to tasting meals only once and have some gastrointestinal bandwidth to make cute pink gin drinks.  This one would make an awesome wedding cocktail.  Just sayin'.  You know who you are.
74 Up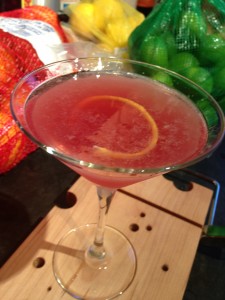 2 oz Tanqueray 10 gin
.5 oz Dolin Blanc vermouth
.5 oz Byrrh
.5 oz lime
.25 oz Bauchant orange cognac (or Cointreau – whatever)
First, think about voting.  Then realize that it's mail-in only.  This would be better with a cocktail.  Combine everything in a shaker.  Shake with equal parts indignation and style.  Strain and garnish with a queerly gigantic orange twist.  Pop open your ballot, take a sip, fill in the bubble, take a pic, post it on Facebook.  Make a quick toast to friends and civil rights.  Jot down a note:  buy more gin.
If you've read this far, please also check out MurrayAid.  Murray Stenson, a friend and a helluva bartender, could (reluctantly) use your help.  He deserves it.  If you kick in, leave a comment!