Floating near the top of our priority list whenever we're out of state is a pilgrimage to the local booze shop.  Yes, we're those people.  Cut  us a little slack.  Until recently, the liquor selection in Washington State was about as good as the condom selection at the Quickie Mart kitty-corner from the Vatican.  Balashi beer was the big drink among the Aruba locals.  But you can't make piña coladas with that, can you?
Behold, the rum of Aruba:  Rum Palmera.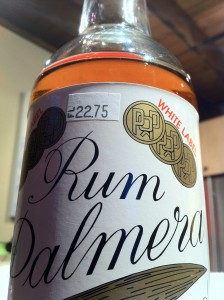 The price on it is in Aruban florins.  It translated to maybe $14.  We stocked up.  It's a helluva good rum.  Only 70 proof, so it has lots of flavor, with not so much heat.  Vanilla nose, sweet spice notes, and a long sugar cane finish.  I think the only way you can get it is to go to Aruba, so we'll be conserving this stuff.
We stayed at the Divi Phoenix, which I highly recommend.  Among the many things to love about the place are the full kitchens in each suite.  Kitchens.  With blenders.  Oh yeah.  Every day was a two-piña colada minimum.  We went through about a fifth of Palmera.
Ever since we got back, I've been trying to re-create the yum of those vacation-soaked tropical waist-wideners.  But the Palmera, alas, is now just for sipping, and the pineapple juice and coconut available here are just not the same.  After many fails, I submit to you this variation:
Perfect Piña Colada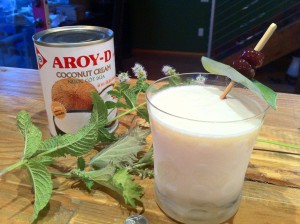 3 oz amber rum (I used Rhum JM, but any good medium-bodied amber should do)
1 oz unsweetened pineapple juice
three tablespoons coconut cream
.75 oz simple syrup
three dashes orgeat (I like Trader Tiki's)
Combine everything in a blender.  Scoop in about two and a half times as much ice as liquid.  Frappe the hell out of it.  Pour it in a frosty rocks glass.  Garnish with two brandied cherries and a pineapple leaf, if you like the look in the picture.  Realize that this makes enough for two people.  Hide the remainder in the fridge.  Hope no one finds it before you're finished with your first one.
The quality of the ingredients is very important here.  Don't make the mistake of buying coconut milk.  You need coconut cream.  Decent Asian grocery stores will have it.  And be sure to find unsweetened pineapple juice.  Knudsen's does a decent one.  That Dole crap will just have you drinking syrup.  You can leave out the orgeat if you like, but I'm finding that it really brings everything together.
The first person to make a comment that alludes to the Piña Colada Song gets it in the face.