So I went to see the Mariners play today.  21st perfect game in Major League Baseball history.  Unfortunately, it was pitched by a guy from the White Sox.  So here's a commermorative drink.  It's super-delicious, but bitter.  Just like the game.
The Perfect Game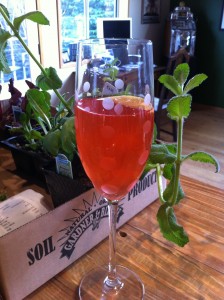 1 oz Campari
.5 oz Licor 43
.5 oz Dolin Blanc vermouth
.5 oz lemon
3 oz dry sparkling wine
Build it in a champagne flute and pour the sparkling over the other ingredients.  Garnish with a thin lemon wedge.   Think how much better the game would have been if you could have gotten four or five of these in you before the opening pitch.  Try to forget about the fact that he actually blew it, since the last pitch of the game was a ball on a 3-2 count, but the batter checked his swing and it was called a strike.  You know.  These things happen.  Usually to the Mariners.
At least it was a gorgeous day.