Privatization of liquor in Washington state has so far meant driving all around town looking for the crap you could once find at the evil gub'mint liquor store in Sodo.  I'm sooooo glad the government is out of the liquor business in the state now.  It's totally worth paying 20%+ more per in state tax per bottle, watching my fave cocktail bars jack up their prices accordingly, and having to go to Portland to find a decent selection in one place.  Because, you know.  Gub'mint bad.
Hmm, maybe I should hold off on putting the bitters in my next drink.  I'm apparently bitter enough.
Anyway, my standards of what's worth blogging about are getting higher, so the posts are getting less frequent.  But I have a few decent ones in the queue.  The latest favorite:
Gregory's Ruin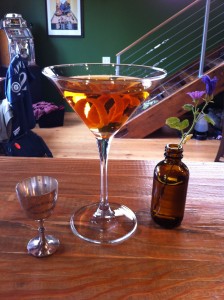 2 oz Cruzan white rum
.5 oz Dolin dry vermouth
.5 oz Cocchi di Torino
.5 oz Amaro del Capo
Think about where you might be able to get del Capo Amaro in Washington.  Snort derisively.  Pull out that bottle that magically appeared at your doorstep, or figure out something to sub.  Torani Amer wouldn't be bad, or maybe a quarter-ounce of Maria al Monte.  Maybe Nardini?  Hell, it doesn't matter.  You have the good stuff.  (Insert evil laugh.)
Stir everything with ice and strain into a cocktail glass.  Garnish with a ridiculously long orange twist, making sure to zest the orange over the drink a bit for some nice oil on the top.  Serve several to Gregory, who proclaims that these will be his ruin.
Make a note of what to get Gregory for Christmas.